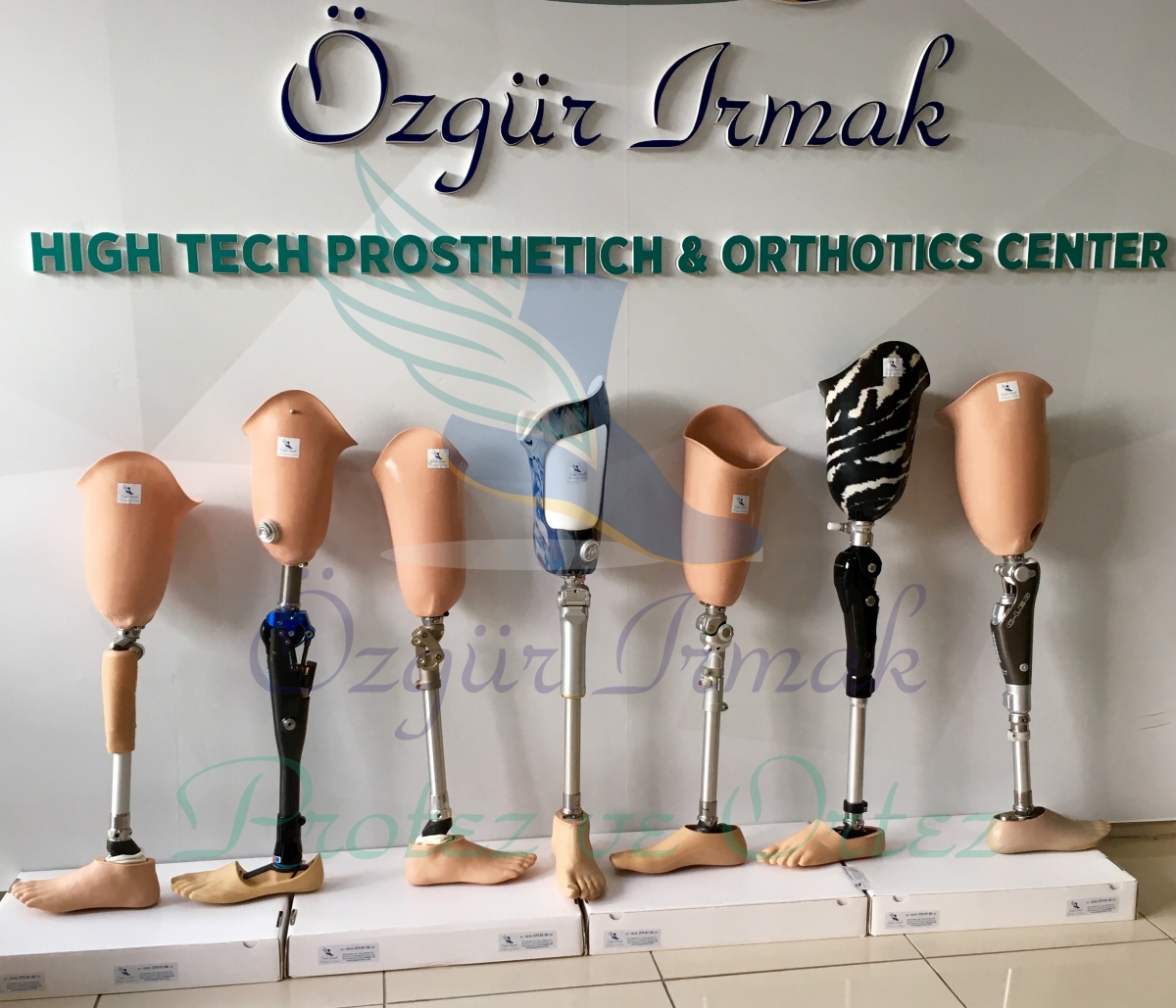 Above-knee prosthesis systems are divided into two as modular and classic. Classical prostheses are not preferred except for their old users. Modular prostheses consist of a socket, knee joint, modular joints, and feet. The products used in the prostheses to be designed in the lower extremities vary depending on the amputation-residual limb status, the degree of activation of the patient and the expectations of the patient.Mobility level is one of the most important factors that determine the quality of life. Mobility requirements of someone who is not very active over a certain age and an athlete are quite different. For this reason, the products are chosen accordıing to individuals' mobility levels. The person measuring the prosthesis assessment should guide the patient correctly during the selection of the correct prosthesis. In this classification, the function and the current situation (height weight) are integrated.
HIGH TECHNOLOGY KNEE JOINTS
NEW GENERATION ABOVE KNEE PROSTHESIS ALLUX 4 BAR MICROPROCESSOR

It is the world's safest microprocessor knee-joint prosthesis.
With the world's first high-tech  4-bar hydraulic microprocessor it allows stance and swing phase knee control, both safety and ease of use are at a high level. The Allux microprocessor knee joint has a 4-bar structure and knee bending angle compared to other microprocessor prostheses and we apply it to our ÖZGÜR IRMAK HIGH TECHNOLOGY PROSTHESIS ORTHESIS APPLICATION CENTER.
It is now easier to go up and downstairs with Allux, and with the 4-bar microprocessor knee concept in Allux, users can lock at different knee angles and have the option to use their prosthesis in 5 different modes.
C-Leg Microprocessor Above Knee Joint
The C-Leg has been offered to above-knee amputee for over 15 years. Over 40,000 users worldwide trust the C-Leg. The microprocessor leg prosthesis C-Leg is for patients who expect high stability and independence in everyday life. C-Leg also meets the demand for mobility and freedom. The knee joint is controlled by a complex sensor system. Thanks to this sensor system, it is possible to adapt to changing walking speeds. Even in unsafe situations, such as slow-speed walking, overcoming obstacles and descending stairs, the C-Leg makes all these daily movements possible.
The control process is carried out via a microprocessor. This unit adjusts the system in real-time and dynamically to all speeds. At the same time, this control system ensures that the stopping phase in C Leg® and C Leg®compact is safely secured. This proven adjustment mechanism is performed on a complex sensor system.The sensors detect load every 0.02 seconds, more precisely the ankle moment on the tube adapter of the foot fitting piece, as well as the angle and angular velocity of the knee joint. In this way, the knee joint constantly recognizes the stage at which the patient with amputation is at the time of walking.
Significant decrease in the frequency of falling,
Increased multifaceted attention,
• Increased activities and increased confidence in prosthesis with a great angle of movement
Genium Microprocessor Waterproof Prosthetic Knee Joint

Genium knee joint with microprocessor control supports natural motion without user awareness. Everything happens simultaneously or even forward. This is made possible by the latest computer, sensor, and control engineering. Genium is thus; It can play a clever role even in the most changeable situations of daily life. With this prosthetic system, physiological walking was performed for the first time.
Five-day average battery life
Thanks to five different attachment modes, more varieties can appeal to users
Its remote control digitally displays the battery level and a number of steps.
Inductive charging possibility without open charging port.
Possibility to squat comfortably thanks to its bending feature up to 135 degrees.
Thanks to its compact size, it adapts to the tall stumps of short users
Thanks to the Computer-Aided Alignment (CAA) program, comfort increases accuracy during the prosthetic assembly.
Genium X3 Genium X3 Bionic Knee
Genium X3 is a unique combination of technology, functionality and intuitive use. This prosthetic system is the closest imitation of physiological human walking.
The Genium X3 is waterproof and corrosion-resistant. It simply opens up previously unimaginable possibilities. You can take a shower, go swimming or work in wet conditions with the Genium X3:Walking slowly or fast, climbing stairs step-over-step, crossing obstacles with a natural movement, standing safely on slopes or walking backward: thanks to the latest computer, sensor, and control technology, the Genium X3 responds intelligently to various everyday situations. Running mode has been developed specially for sports. In this mode, the user can do the walking and running sports. OPG (optimized physiological gait – optimized physiological gait) function is disabled in this mode to ensure the full extension of the lower leg.X3 has 5 different modes.
Symbyonic Bionic Leg

In Bionic leg prosthesis, high-level activity is provided with bionic Proprio used in knee prostheses on the foot part and symbionic prosthetic knee joint in the knee. Symbionic, is the first full bionic leg prosthesis in the world. Combining a servo motor foot unit and a knee joint that can adapt to a different floor and walking speeds, Symbionic, provides unique benefits for those using an above-knee prosthesis.
The active upward movement of the ankle that occurs when you step forward the prosthetic side (dorsiflexion) prevents contact of the prosthesis to the floor and minimizes the possible fall risks.
With the help of sensors, the automatic ground sensing feature provides better ground contact on ascending or decreasing ramps, optimizes support for the knee joint and adjusts the ankle angle according to the steepness of the slope.
The function of adjusting the heel height, which can be done by pressing a single button, eliminates the need to change the settings of the prosthesis in changing shoes, allowing the user with or without shoes to adapt to the ground on which they walk.
[youtube id="https://www.youtube.com/watch?v=KLHDz5UyLIc" width="600″ height="350″ autoplay="no" api_params="" class=""][/youtube]
[youtube id="https://www.youtube.com/watch?v=UFJv5qbPVZg" width="600″ height="350″ autoplay="no" api_params="" class=""][/youtube]
Rheo Electronic Knee Joint
Imagine a knee joint that adapts to the user's walking style and the ground on which he walks, constantly learns and reacts to the action as soon as possible. Össur company offers RHEO KNEE knee joint, which provides microprocessor control at every moment of movement with the world's first artificial intelligence power.
RHEO KNEE can think independently. It learns how the user walks, analyzes changes in speed-direction or ground and reacts as soon as possible. As with other knee joints, it does not adhere to the predetermined limited parameters, it adapts to the user in any condition, where, how and at what speed he wants to walk.
RHEO KNEE Performance advantages;;
Constant compliance – Artificial intelligence module, designed with extremely high technology, gives the knee joint self-thinking ability. It constantly recognizes, learns, adapts to different walking styles of the person and adapts to changes in speed, weight change, and ground structure.
Natural and effective action – Its special technology that controls knee movements produces an extremely natural and fast response at every stage of the walking cycle. Unlike hydraulic systems in other knee joints, this reaction can offer personalized resistance to the user's need. In this way, while the effort spent on movement decreases, walking becomes much more fluid and natural.
Enhanced security – With its multi-security feature in software and mechanism, the knee resists against involuntary movements in critical moments. The sensor technology, which brings the information analyzed 1500 times per second at every moment of the walk to artificial intelligence, defines abnormal walking rhythms and protects the user against the potential risks of tripping and falling.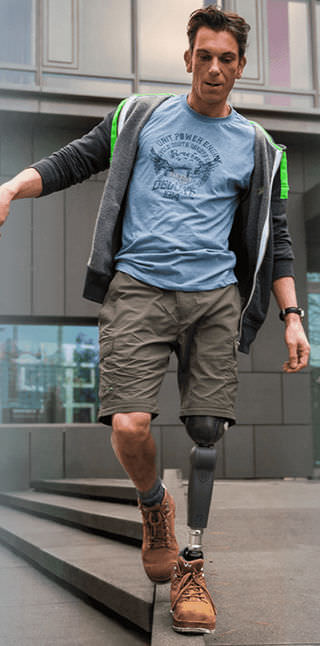 Plie 2.0 MPC Knee Joint
Waterproof
Plie 2.0, which is safely covered with plie 2.0 Mpc knee joint with its electronic components, is the only microprocessor-controlled knee joint that is not affected by short-term fluid contact with water.
Integrated Bending Pad
An internal pad provides users with confidence and comfort when bending on uneven surfaces.
The Most Compatible Microprocessor (MPC) Knee Joint
To provide the user with a more natural mobility experience, Freedom Innovations has studied biological norms to determine performance criteria in the new Plie 2.0 with microprocessor-controlled swing and stance. With the integration of high-performance processing ability and the latest hydraulic system, Plie 2.0, the Micro Processor Controlled knee that is most compatible with the anatomic knee joint, was developed.
Fast Reaction to Gait Changes
The precisely adjusted control system allows Plie 2.0 to respond to the user within 10 milliseconds. This is the fastest control loop time for a Microprocessor Controlled knee. As a result, users can stay longer in the stance phase, take small steps and change their walking speed more rapidly.
Ultra-Light Design
To bring the center of gravity closer to the knee, the distance between the lever arm and the joint center is minimized and the hydraulic cylinder is reversed. This is not only the smallest MPC (microprocessor) knee joint profile available in 235mm length, but also the lightest-felt MPC knee joint with only 1.235g.
Resistant and reliable
With its high-performance aluminum frame feature, the Plie 2.0 knee joint exceeds ISO standards created for structural integrity. Also, its electronic components are covered against water resistance so that users can reach a wider level of activity with greater confidence and less concern.
POWER KNEE POWER KNEE Microprocessor Above Knee Prosthesis
POWER KNEE, the only motor-powered knee joint, provides active motion and superior powered stance stability to replace lost muscle function, enabling users to go further.
Delivering powered extension when standing up, controlled resistance when descending, and active flexion and extension during walking, POWER KNEE facilitates symmetrical weight distribution and natural gait.
3R60 (HYDRAULIC KNEE JOINT PROSTHESES)
3R60 is a polycentric knee joint. In the swing phase, the intelligent miniature hydraulic joint controls the pendulum movement below the knee. Knee bending and locking movements are managed by the motion resistances provided by the miniature hydraulic system.
3R106
You can easily do many activities such as driving, cycling, etc. with the 3R106. It is also safe. The modular knee joint 3R106 is lightweight and flexes up to 170 degrees. So you can sit comfortably or bend your knee to play with children. Since it can oscillate while walking, surface irregularity is not a problem. You don't have to focus on your prosthesis while walking. It allows walking at different speeds. You can easily start the swing phase. As the knee extends slowly while walking, you take a natural walk with little energy. The joint has four modular connections so it can be used in different amputation levels. It has a high level of security, different walking speeds, and a large flexion angle. It is suitable for mobility levels 2 and 3.
3R80
With the single-axle modular knee joint 3R80, climbing stairs provides safe and comfortable walking in inclined and hilly areas. This system provides a dynamic soft walking pattern. Suitable for mobility levels 3 and 4. 3R80 provides high security during the stance phase. When the prosthesis makes a heel strike, it prevents sudden knee bending thanks to the hydraulic safety. The hydraulic safety system is only available in 3R80. Both the stance and the swing phase are controlled by this system. When the load placed on the prosthesis is removed, the knee joint immediately takes the position of the swing phase. It provides automatic adaptation to your speed. 3R80 body weight is suitable for up to 100 kg.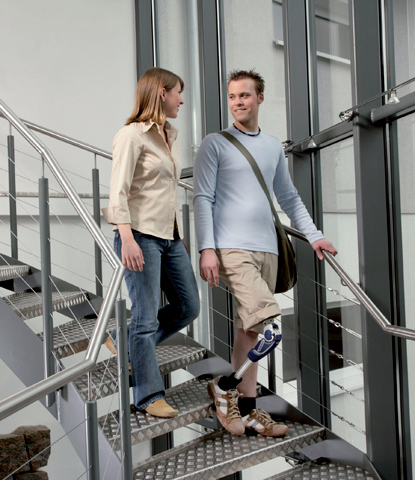 R95 / 3R95=1

This system is small, light and dynamic. If you do not want to engage in sports and compromise on safety, the 3R95 light knee joint is ideal for you. It helps to provide the ideal walking pattern. It provides security at high speeds. Suitable for mobility levels 3 and 4. Being small, light, and dynamic is the characteristic feature of the single-axle 3R95 light modular knee joint. It is at 360 gr. While walking, the 3R95 automatically adapts to the speed, resulting in safer and more natural stepping. The feature of 3R95 is its powerful miniature hydraulic system. In the swing phase, the knee flexion is prevented from being too far behind in the knee flexion, and in the heel strike, the knee transitions smoothly into extension. Knee flexion accelerates during the swing so that it adapts to high speeds.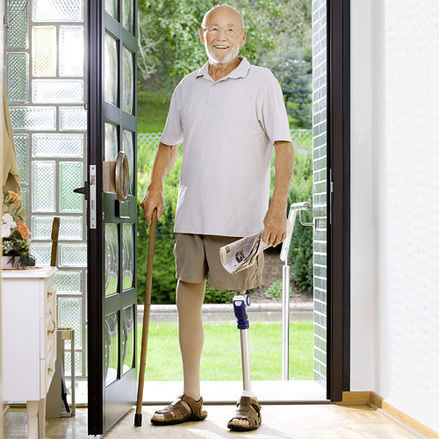 Why should you choose Özgür Irmak orthotics and prosthetics center?
Özgür Irmak Prosthesis and Orthotic Center focuses on applying lower extremity systems by developing world standards, in cooperation with prosthesis users and prosthetic technicians. Solutions such as technological innovations, service, training, and consultancy covering this process support the process to ensure user satisfaction.